Halifax is one of the best little cities in the country and while you're here, our home is your home. You'll find some good guides at Discover Halifax and NovaScotia.com but we'd also like to suggest some of our own favourites.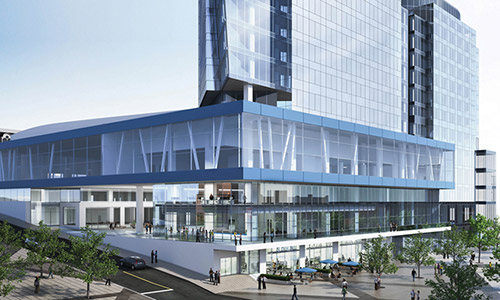 Nova Centre
The Nova Centre is a space that is truly for everyone. Built with the purpose of bringing its tenants and community together, this mixed development one-million-square-foot entity is an urban and contemporary masterpiece that offers industry and culture the space to thrive. The Nova Centre includes an office tower, restaurants, shops and Rogers Square, a European-style shared street. It also houses the new Halifax Convention Centre, which offers over 120,000 square feet of meeting and event space in downtown Halifax.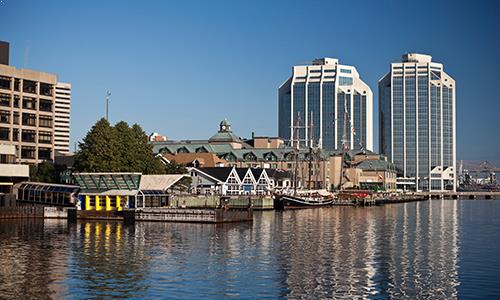 People Watching
Ahh. The best free fun you can have. Some of the best look-outs are Halifax Public Gardens, Point Pleasant Park, and the Halifax Commons. Just around the corner, the Halifax Central Library is a stunning place to people watch and admire the architecture. Its auditorium also features free movies and musical performances most afternoons, so you may catch more than just people to watch, but with two coffee shops, free wifi and 360 view of the downtown you can easily spend an afternoon admiring the view.
Performing Arts
It's always worth checking out Dalhousie Arts Centre (6101 University Ave). A beautiful space to take in music and dance. It's also home to Symphony Nova Scotia. 902-494-3820 toll free at 1-800-874-1669 Box Office open Mon-Sat from Noon-6pm
www.dal.ca/dept/arts-centre.html

Neptune Theatre (1593 Argyle St). The site has been home to excellent live theatre since 1915. 902-429-7070.
www.neptunetheatre.com
Galleries
Art Gallery of Nova Scotia (1723 Hollis St), our provincial art museum houses over 17000 works in its Permanent and Study collections, including an extensive selection of Annie Leibovitz's photographs as some of Nova Scotias home-grown talent like Maud Lewis and Tom Forrestall. 902-424-7359
www.artgalleryofnovascotia.ca

Some of our other favourites for contemporary work are Studio 21 (1223 Lower Water St) and Page & Strange (1869 Granville St).

Studio 21: www.studio21.ca 902-420-1852 Tue-Fri 11am-6pm Sat 10am-5pm Sun 12-5
Zwicker's Gallery: www.zwickersgallery.ca 902-423-7662

Museums
Rich in history, you can expect great museums in Halifax. Some of the best are Canadian Museum of Immigration at Pier 21 (1055 Marginal Rd) where you can learn about the shared history of millions of new Canadians and Maritime Museum of the Atlantic (1675 Lower Water St) which specializes in the Marine history of Atlantic Canada from the Titanic, to Theodore Tugboat. Both are located on the Halifax waterfront along the boardwalk.

Pier 21: www.pier21.ca 902-425-7770 or toll free at 1-855-526-4721

Maritime Museum: www.maritimemuseum.novascotia.ca 902-424-7490

The Museum of Natural History (1747 Summer St) is a natural for kids. Step into the forest, dive under the sea, and travel around the world when you visit the Museum of Natural History. Home to a number of animals from around the province, one of the only Science on a Sphere projection units in Canada as well as galleries dedicated to Mi'kmaq artifacts and Acadian archaeological discoveries showcase Nova Scotia's rich culture. Don't forget to say hello to the museums resident 90-year-old Gopher Tortoise, Gus. naturalhistory.novascotia.ca
Tourist Traps
Let's face it, some places are a magnet for tourists because they are, in fact, really great. Found at the waterfront on Lower Water St, the Harbour Hopper is a fun way to see the city. Drop your pretentions and go along for the ride. 902-490-8687

Peggy's Cove. If you've never seen it, do. If you've seen it before, do it again. And please obey the signs that say don't go too near the waves! This awesome stretch of the Atlantic coastline deserves respect.

Keith's Brewery Tour (1496 Lower Water St). It would be fun even without the beer. www.keiths.ca
Dining
While we offer great food at Cambridge, there is a lot to choose from. And a lot of it is very close to the hotel.

The Barrington Steakhouse - 1662 Barrington Street, (902) 407-5001. barringtonsteakhouse.ca

Gio (1725 Market St) in the Prince George Hotel offers exquisite, critically acclaimed dining. 902-425-1987 www.giohalifax.com

Morris East (5212 Morris St) is a hip little place with old favourites and unexpected combos of wood-fired pizza. www.morriseast.com 902-444-7663

Stubborn Goat (1579 Grafton St) is a tasty gastropub frequently featuring live music. www.stubborngoat.ca/halifax 902-405-4554

Check out Cha Baa (1546 Queen St) 406-3008 for Thai
Bars
We've heard that Halifax has more bars per capita than any city in Canada. We don't know if it's true. We just know our favourites.

The Old Triangle (5136 Prince St). This Celtic pub fills up with an after-work crowd and continues into the wee hours with a kitchen party atmosphere. www.oldtriangle.com 902-492-4900

The Bitter End (1572 Argyle St). Chill and stylish. Attracts the well-groomed and the wildly original. www.bitterend.ca 902-425-3039

Stillwell Bar (1672 Barrington St). The place to go for craft beers with rotating selection of brews on tap. www.barstillwell.com 902-421-1672

Durty Nelly's (1660 Argyle St). A popular Irish pub serving up your favourite pub dishes in the heart of Downtown Halifax. www.durtynellys.ca 902-406-7640

Lots of others. Many bars have live music. So please, wander around. We're pretty sure Halifax has more musicians per capita than any city in Canada.
Cafés
Every town worth its salt has their favourite cafes where you find the locals. In our town, it's Steve-O-Reno's (just across the street from the hotel), The Wired Monk, and Java Blend, where the family has been roasting coffee on site since 1938. Steve-O-Reno's: 902-429-3034

The Wired Monk: 5147 Morris St 902-422-2219 www.wiredmonk.com

Java Blend: 6027 North St 902-423-6944
Fitness
Beyond our Fitness Studio, explore Modo Hot Yoga (1512 Dresden Row) or hot pilates and dance at Studio in Essence (1535 Dresden Row #203).

If you're looking for a full workout then choose to pump iron at the Goodlife Fitness (Park Lane Mall, 5657 Spring Garden Rd), or give it the old college try at the Dalplex (6260 South St).

Looking to try something different? Try climbing the walls at Seven Bays Bouldering (2019 Gottingen St).

Do you like getting wet? Throw on your speedo or bikini and take a dip in the Olympic sized pool at Centennial Pool (1970 Gottingen St).

modoyoga.com/halifax/ 902-420-0888

www.studioinessence.com 902-405-5500

www.ymcahfx.ca 902-423-9709

sevenbaysbouldering.com 902- 407-9656

www.athletics.dal.ca 902-494-3372

www.ymcahfx.ca/john-w-lindsay/
Outdoor Adventure
As much as we love Halifax, one of our favourite things about being here is how easy it is to get out of the city. You don't have to travel far to hit a beach or find an amazing hike. Some of our favourite swimming spots are: Bayswater Beach, Crystal Crescent Beach, Long Lake Provincial Park, and Rainbow Haven.

Lawrencetown Beach has year round surfing. Try checking out Happy Dude's Surf Emporium (4891 Highway 207) 902-827-4962 on the way there.

If you're needing any other kind of gear try M.E.C. (1550 Granville St) 902-421-2667 or locally owned, The Trail Shop (6210 Quinpool Rd) 902-423-8736.

If you're heading toward the South Shore, East Coast Outfitters (2017 Lower Prospect Rd) will fit you out with a kayak and lessons. www.eastcoastoutfitters.com 902-852-2567 or toll free at 1-877-852-2567.

If you're looking for a more leisurely adventure than make your way to Wolfville and wind your way down a lazy river with Gaspereau River Tubing (3484 Black River Rd).

I Heart Bikes is Halifax's premier bicycle rental and tour service. Each route brings together different aspects (nature, food, architecture, art, history) of the city fully integrating cycling, walking, dining and sightseeing. For more details on I Heart Bikes visit www.iheartbikeshfx.com
Live Venues
Have we mentioned music yet? Walk through any neighbourhood in Halifax and hear bands practicing in what seems like every basement. You can catch them after rehearsal at venues such as The Carleton (1685 Argyle St), The Seahorse Tavern (2037 Gottingen St), and the Company House (2202 Gottingen St). The Carleton: 902-422-6335 The Seahorse Tavern: 902-423-7200 Company House: 902-404-3050
Festival & Events
There's pretty much always something going on. Some of the best are the Bluenose Marathon, Halifax Pop Explosion, Atlantic Film Festival, Hal-Con, and Nocturne: Art at Night. For a longer list, check out: discoverhalifaxns.com.
Shopping
There's lots of good stuff out there.

Seaport Farmer's Market (1496 Lower Water St). Housed in a striking LEED-rated building in the Seaport district, it offers the best of the locally-made and locally grown. From groceries, meals, to artisanal handicrafts there are lots this market offers. The best day to check it out is Saturday, when it bustles with locals and live music, but many vendors are open throughout the week as well. www.halifaxfarmersmarket.com

Biscuit General Store (1661 Argyle St). Funky and fab apparel for men and women as well as a selection of unique household wares and gifts. 902-425-5436

The Hydrostone Market (Young St). There are lots of lovely shops to pop in and out of in the historic Hydrostone neighbourhood. Sample specialty oils and vinegar at Liquid Gold, enjoy pizza from Salvatore's or grab a croissant at Julien's Bakery, then head over to Fort Needham Park to learn a little about the neighbourhood's development following the aftermath of the Halifax Explosion. www.hydrostonemarket.ca

Vintage Row. If you love the thrill of the hunt and a good vintage find, then head over Queen St between Spring Garden and Sackville streets. The number of used clothing shops on the block have led locals to call the block Vintage Row and there are always gems to be found within its stores.

Woozles (1533 Birmingham St) is Canada's oldest Children's bookstore. They know kids and they welcome them. Find books, toys and inspiration. www.woozles.com

The Freak Lunchbox (1723 Barrington St) A candy store of Willy Wonka proportions! 902-420-9151 www.freaklunchbox.com